Meet Our Founder and
Lead Instructor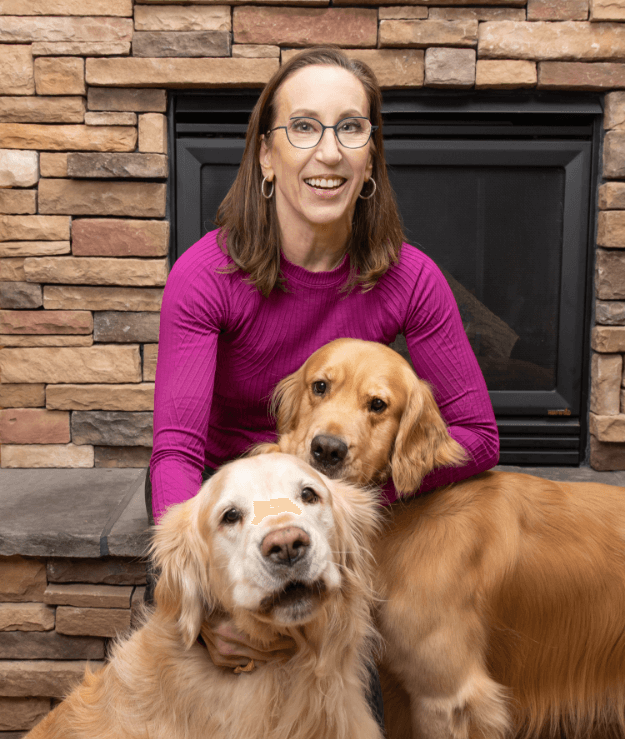 Greetings from Cynthia and the furry Brace Point studio mascots! If you have allergies to dogs or cats, please note that they are on the premises.
Cynthia Jordan began her journey as a ballet dancer performing in Spokane and Seattle. With a BA in Dance from Mount Holyoke College and an MFA in Dance from the University of Washington, Cynthia has been dancing and teaching professionally for decades. Jacob's Pillow summer dance program, the Spokane Ballet, and the UW Chamber Dance Company include just some of her notable career highlights as a professional dancer.
After teaching both adult and children's dance classes at the Pacific Northwest Ballet and the ARC School of Ballet, Cynthia became certified in Functional Range Conditioning (FRC)® mobility, Injuries & Special Populations (ISP), and STOTT PILATES® instruction for Elementary, Intermediate, and Advanced repertoire on all equipment. During her time at Pacific Northwest Ballet, Cynthia was trained to teach Pilates to company dancers by Mary Sue Corrado, who opened the first Pilates studio in Seattle. She also studied and received tutelage from two highly regarded names in the Pilates community: Elizabeth Larkam and Karen Clippinger.
Beyond her certifications and experience, what sets Cynthia apart is her passion for teaching and meeting clients where they are to fully embrace the mindful, therapeutic process Pilates can offer.
STOTT PILATES® is a contemporary approach to the original exercise method pioneered by Joseph Pilates. Along with a team of physical therapists, sports medicine, and highly diligent fitness professionals, this practice is a refined technique of exercise and equipment use.
Resulting in the inclusion of modern exercise science and spinal rehabilitation principles, STOTT PILATES® is one of the safest and most effective methods available. This practice is used by rehab and prenatal clients, athletes, celebrities, and everyone in between.